Apartment Renovation Contractor Serving Homeowners in Manhattan, NYC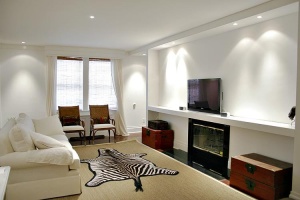 For an experienced, professional apartment renovation contractor in Manhattan, New York, make the smart decision and turn to Knockout Renovation. As a full-service remodeling company that has served homeowners throughout the Upper East Side, Upper West Side, and all surrounding Manhattan neighborhoods since 1992, we have the knowledge and skills necessary to coordinate and supervise every aspect of your apartment renovation, from design and permitting to construction and beyond. This all-in-one, turnkey approach removes the stress and anxiety from the remodeling process and provides maximum convenience, enabling you to focus your energies elsewhere while Knockout Renovation transforms your apartment into the beautiful, functional home you've always wanted.
Each remodel we perform is assigned to a dedicated designer/project manager (DPM). This individual will work closely with you throughout the entire apartment renovation process, assisting you in design development and product shopping, and ensuring that all construction proceeds precisely according to plan. Furthermore, before we begin any work on your Manhattan, NY, apartment, we will provide you with a line-itemized quote detailing every aspect of your home improvement project, including all products, services, deadlines, and costs. As a result, you will always know exactly what you will be receiving with your Knockout Renovation apartment remodeling project.
When shopping with your DPM, either at our expansive showroom, a local retail store, or a manufacturing center, you will be able to choose from among a wide range of products from industry-leading brands. These choices can include:
Doors and windows
Ceiling fans
Flooring
Appliances
Countertops
Lighting and plumbing fixtures
And more
Plus, when you trust us with your apartment renovation project, great service and support do not stop once construction begins. Because of our regular project updates and responsive billing schedule, which ties invoices to work progress, you will be well-informed throughout every phase of the construction process, from day one to post-job cleanup. We even offer a weekly delay guarantee, providing you compensation for the inconvenience should construction take longer than quoted.
For more information on the advantages of hiring the apartment renovation experts at Knockout Renovation, please contact us today. We proudly serve all neighborhoods in Manhattan, New York City.