Apartment Remodeling Made Simple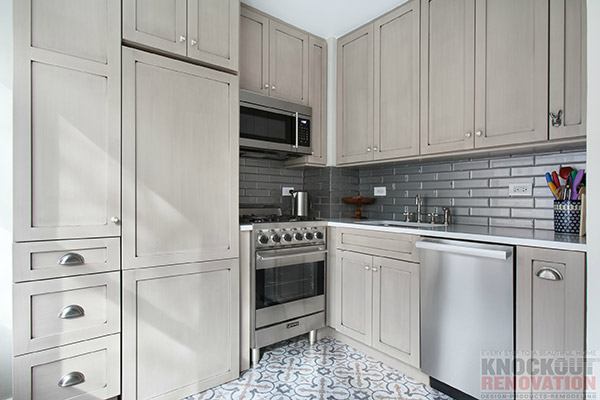 Beyond Design Build
Renovating an apartment in New York City can be an overwhelming task to undertake.  
There's so much to consider, including design aspects, deciding which rooms to renovate, building requirements, permits, product selections, orders, deliveries and of course, budgetary constraints. Since all these elements affect the project's overall cost, obtaining realistic estimates for the work to be completed is essential to the entire apartment renovation process.
Knockout Renovation is here to assist you with all your apartment renovation needs.  We start by simplifying the initial process, combining the services normally performed by an architect, designer and/or contractor into a more seamless, all-in-one approach, to drastically reduce the propensity for details to be forgotten or miscommunicated as well as the adversarial relationships that can form between these sometimes competing entities.
Knockout's system, in development for nearly 30 years, begins with our in-home discovery/consultation.  We then move on to the elements of design, work scope and budget development, working closely with you to incorporate the individual elements that make your house a home.  Once you approve the initial plans, the all-important product selection process will begin.
Product selection starts at our midtown east showroom and continues at a host of top showrooms throughout New York City that we have developed relationships with.  Our team will work closely with you throughout this exciting but sometimes stressful process to help you narrow down and choose the best products to enhance the look and feel of your home.
At the same time, our Knockout Renovation office team is busy preparing the required documentation to submit to your management company and, if needed, to the Department of Buildings. Our almost 30 years of experience with the approvals process enables us to ensure all the essential elements are in place to get your renovation plans approved on time.
Once we have final approvals to perform the renovations, we get to work ensuring that all products are in-hand or scheduled to arrive on-time. Our dedicated Designer+Project Manager (DPM) schedules our Trades Specialists and begins the renovation process by protecting all of your belongings and adjacent areas. Our DPM will be at the jobsite often to direct the team and ensure the work matches the initial design. Upon completion, we have a cleaning crew perform a thorough clean-up.  
AT KNOCKOUT RENOVATION, WE STAND BY YOU—AND OUR SERVICE
Once your renovation is complete, Knockout Renovation is still at your service with our 7-year labor and products warranty. Knockout Renovation also provides an on-time guarantee so that if we do run late on the project, a credit is added to your balance.
GETTING STARTED
Whether you've visualized the perfect interior for your New York apartment over and over or need the skill and vision of an experienced designer to help craft that vision, now it's time to make the dream a reality. Whether you're looking to create a minimalist feel or a more stylistically-driven interior, Knockout Renovation can get you there through our defined, turnkey, full-service apartment remodeling process.
SCHEDULE YOUR DESIGN CONSULTATION
Call 212-599-5060, email or fill out our consultation form now to schedule a free in-home consultation and make your home a place you will absolutely love to be.