Townhouse Renovation from Home Improvement Experts in New York City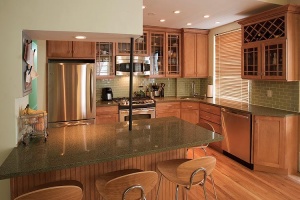 Knockout Renovation performs townhouse remodeling for residents of New York City who demand the very best. Since 1992, our expert team of craftsmen, designers, architects, and contractors have enhanced the living spaces of families in Greenpoint, Williamsburg, and other neighborhoods throughout Brooklyn and Manhattan. If your townhouse is due for an update, give us a call today.
Knockout Renovation specializes in large-scale townhouse renovation projects. For example, we can perform:
Whole home remodeling
Townhouse combination and other structural changes
Kitchen and bathroom remodeling
Home modifications for seniors and disabled residents
At Knockout Renovation, we know that are clients don't have time to deal with the hassles of a major remodeling project. That's why our New York City-based company takes an all-in-one approach to renovation that eliminates stress for the homeowners we serve. Our professionals will gather all necessary permits and approvals, write and send neighbor letters, schedule product deliveries, and oversee every aspect of construction to ensure a flawless result. We'll even perform a thorough clean up service once the project is finished.
Another reason to choose Knockout Renovation for townhouse remodeling is the exceptional quality of the products and materials we use. We maintain excellent relationships with the industry's finest manufacturers, and only install premium-grade appliances, countertops, cabinetry, and finishes. Thanks to our commitment to quality, we maintain an A+ rating with the Better Business Bureau and continually earn recognition from national publications like Qualified Remodeler and Remodeling Magazine.
Contact Knockout Renovation today to schedule a design consultation at your NYC residence and learn more about our townhouse renovation services. Prospective clients are also invited to visit our large kitchen and bath showroom in New York City.