Full-Service Renovation Company in Manhattan and throughout NY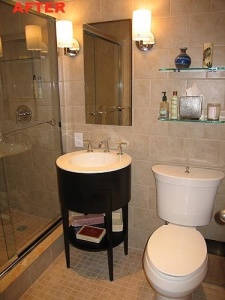 The renovation company you hire to complete your home improvement work in Harlem, Manhattanville, or elsewhere in Manhattan or NYC, is a key aspect of your project. Whether you would like to renovate a single room or an entire apartment, there are some important considerations to be aware of – in addition to price – to ensure a successful project. Knockout Renovation, a professional, all-in-one renovation company, has what it takes to ensure a smooth project from start to finish. As an interior home remodeling specialist, we've been proudly serving NY residents since 1992.
Before deciding upon a renovation company in Manhattan, we recommend that you keep the following tips in mind:
Do your homework – Thoroughly research the remodeling contractors you are considering. Your due diligence should include asking for references, confirming that all required licenses are valid and proper, and meeting face-to-face to ensure the professionals you plan to hire are truly professional.
Don't base your decision solely on cost – With regard to home improvements, much like everything else, expertise and quality come with a price tag. The least expensive contractor is likely so for a good reason.
Understand the contract – Read all documents carefully and ask questions before signing anything. Be sure that you know exactly what you can expect from the renovation company.
Trust your gut – In a professional relationship, mutual respect is essential. If you feel uneasy about a prospective contractor – for any reason or no reason – it's probably best to keep looking.
Knockout Renovation would be honored to serve as your renovation company in New York. With us, you can expect a fully personalized experience. A knowledgeable designer/project manager will be available to assist you throughout your project, helping you to design your space and select products, and then arranging deliveries, obtaining required permits, and coordinating and overseeing the work. Throughout each phase of the project, you receive regular status updates and line-itemized progress invoices. And, once all of the work is complete to your satisfaction, a five-year, transferable service and product warranty will begin protecting your important investment in your home.
To learn more, please contact Knockout Renovation, your fully integrated renovation company in Manhattan.