Kitchen and Bath Remodeling Experts Serving NYC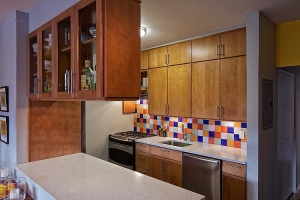 If your home in NYC is in need of kitchen and bath remodeling, be sure to partner with the design professionals at Knockout Renovation – the city's premier provider of high-end home remodeling services since 1992. We serve residents who demand nothing less than the best in Sutton Place, West Village, and other neighborhoods in Manhattan and Brooklyn.
Starting a kitchen and bath remodeling project can feel quite overwhelming. The design options are endless, and there seems to be dozens of home remodelers who are anxiously vying for your business. Here are a few reasons why you can confidently choose Knockout Renovation to facilitate your project:
Our team includes skilled designers, craftsmen, and architects who utilize the finest products and materials to deliver outstanding results.
We take an all-in-one approach to remodeling that eliminates stress and hassle for our clients, and utilize a proprietary project management system to ensure each phase of construction is completed to perfection.
We have a spacious and interactive design showroom that allows our clients to browse the latest trends in home improvement.
Thanks to our design expertise, we are consistently mentioned on the "best of" lists of national industry publications like Qualified Remodeler and Remodeling Magazine.
We put our clients first, which is evidenced by our A+ rating with the Better Business Bureau.
Additionally, Knockout Renovation has the expertise and skill necessary to tackle even the largest home improvement projects with ease. Whether you want to update your kitchen and bath or revamp the interior of your entire home, we've got you covered.
For kitchen and bath remodeling in NYC, trust Knockout Renovation. One of our professionals will be happy to visit your condo, apartment, or townhome to provide a thorough design consultation and answer any questions you may have about our high-end approach to remodeling.