Kitchen Renovation Services from Experienced Contractors in New York City, NY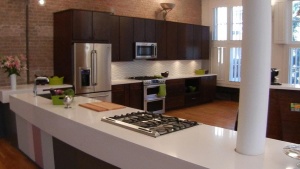 Knockout Renovation is proud to provide a full spectrum of kitchen renovation services to homeowners in Navy Hill, Fort Greene, and neighborhoods throughout Brooklyn and Manhattan. As the premier home improvement company in New York City, Knockout Renovation has facilitated countless kitchen remodeling projects using the finest materials and craftsmanship. But, don't just take our word for it – the Better Business Bureau continually gives us an A+ rating, and national industry publications like Qualified Remodeler and Remodeling Magazine include us on their "best of" lists year after year.
The kitchen is the heart of any home – and apartments in New York City are no exception. That's why it's important to give ample thought toward the layout and design of your kitchen. At Knockout Renovation in NYC, our team includes designer/project managers (DPM) who sit down with each of our clients to discuss their preferred aesthetics and functional needs. From there, we will create a detailed design plan and itemized work scope for the client's approval.
Our kitchen renovation services can include:
Custom cabinetry
Hardware and knobs
Countertops (granite, quartz, marble, butcher block, cement, and more)
Custom tile backsplashes
Appliances
Plumbing fixtures
Lighting
Flooring
Paint
Windows
And more
Knockout Renovation can also install lowered and multi-tiered countertops with open space beneath to accommodate the needs of seniors and disabled individuals who use wheelchairs. Additionally, we offer full manufacture warranties and comprehensive labor warranties to ensure our clients' investments remain protected.
Contact Knockout Renovation today to learn more about our kitchen renovation services and why we are New York City's go-to home remodelers.