Luxury Kitchen Renovation Services for Residents of New York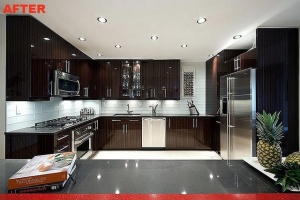 Your kitchen is the heart of your home, so why not make it a stylish and functional space that you'll actually enjoy spending time in? At Knockout Renovation, our New York-based kitchen remodeling experts specialize in merging high-end materials with smart designs to provide spectacular results. If you're interested in revamping your kitchen in Tribeca, Chelsea, or another neighborhood in Manhattan or Brooklyn, turn to Knockout Renovation.
Our approach to kitchen renovation
At Knockout Renovation, we take an all-in-one approach to kitchen remodeling to eliminate the hassle and stress for our clients. Our team of professionals handles both the large and small (but time-consuming) tasks that accompany a renovation project – like gathering permits and approvals from the NYC Department of Buildings and sending neighbor letters. This will allow you to focus on the design aspect of your kitchen renovation project. Working hand in hand with a designer/project manager, you can select from a wide variety of premium grade products and materials for your new kitchen, including:
Custom cabinetry
Countertops (marble, granite, quartz, butcher block, and more)
Tile backsplashes
Flooring
Hardware and plumbing fixtures
Paint and wall coverings
Lighting
Professional-grade appliances
The Knockout Renovation difference
Knockout Renovation has been a trusted source of kitchen renovation services since 1992, thanks in part to our attention to detail, commitment to quality products, and outstanding professionalism. In fact, we maintain a coveted A+ rating with the Better Business Bureau and are continually ranked among the best home remodelers in the country by Qualified Remodeler magazine and other industry publications.
Contact Knockout Renovation today to schedule a kitchen design consultation at your home in New York. Our team proudly serves residents of Manhattan and Brooklyn.