Kitchen Remodeling Services for Homeowners in Manhattan, NY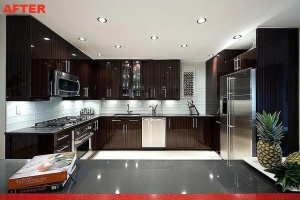 Remodeling the kitchen in your Manhattan, New York, condo or co-op can potentially be a huge hassle, often requiring a significant amount of planning and coordination before any construction can even begin. However, with the convenience of the integrated design, product, and remodeling services offered by Knockout Renovation, you can trust that your remodeling project will proceed smoothly, be as stress-free as possible for you, and result in a beautiful, functional kitchen.
Whether part of a full apartment renovation or as a stand-alone home improvement project, remodeling the kitchen in your home in Murray Hill, Turtle Bay, or any other neighborhood in Manhattan, NYC, provides you with the opportunity to create the warm, inviting meal center you've always wanted. At Knockout Renovation, our all-in-one, turnkey approach to renovations lifts the burdens of a remodeling project from your shoulders, enabling you to remain focused on your already busy life and schedule while we construct your dream kitchen.
With Knockout Renovation as the contractor for your kitchen remodeling project, you will receive a wide range of support services, including:
Architectural and design planning
Product shopping and selection assistance
Building approvals and permitting
Materials ordering and delivery
Construction and site management
Post-construction cleanup
And more
Additionally, to ensure the end result of your kitchen remodeling project is aesthetically appealing, fully functional, and exceeds your expectations, we will assign a personal designer/project manager (DPM) to your renovation. As your partner in this process, the DPM, along with the rest of your renovation team, will coordinate and supervise every aspect of your kitchen remodeling project, and provide you with regular updates through our innovative project management system. As a result, you can rest assured that your project will be performed properly, you will be kept informed throughout the entire renovation, and your newly remodeled kitchen will be nothing short of stunning.
To find out more about the benefits of a turnkey kitchen remodeling project from Knockout Renovation, please contact us today. We proudly serve homeowners throughout Manhattan, New York City.