Stress-Free Kitchen Remodel Services for Residents of Brooklyn, NY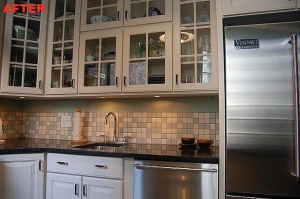 A kitchen remodel by Knockout Renovation can transform a poorly configured space into the culinary headquarters of your dreams. As most residents of Navy Hill, Fort Green, and elsewhere in Brooklyn, New York are well aware, it's nearly impossible to find a living space that allows you to check off every item on your wish list. Usually, something has to give, and that something is often the kitchen. Perhaps you initially found a dark, narrow kitchen to be quite charming in its quirkiness. Maybe you figured you'd be able to make do, since you don't normally throw extravagant dinner parties, or even cook on a regular basis. But, over time, the drawbacks of a badly designed kitchen usually become more and more apparent. If this sounds familiar, why not consider a kitchen remodel?
If you have reservations about taking on a kitchen remodel due to your busy lifestyle in Brooklyn, NY, you needn't worry. As one of New York City's few all-in-one home improvement companies, Knockout Renovation can expertly organize, oversee, and perform all aspects of your kitchen remodel project, and you are welcome to be involved as little or as much as you'd like. Here's a sampling of what you can expect:
Your dedicated designer/project manager will work with you to create a redesign that fits within your existing parameters, including your budget, while focusing on functionality and space efficiency.
We'll provide expert guidance to help you select products and appliances, so you won't be left on your own to try to figure out the differences between granite and marble countertops, and other key considerations for your kitchen remodel.
We'll arrange the deliveries, obtain all required permits, and flawlessly execute the work as you go about your daily life in NYC.
After being completed to your satisfaction, your kitchen remodel will be protected by a five-year, transferable service and product warranty.
Of course, many remodeling companies in Brooklyn have the requisite skills to perform the installation work needed for a kitchen remodel. However, most lack the expertise necessary to provide proper oversight to ensure that a project flows smoothly. As an all-in-one contractor, Knockout Renovation excels in this area, among others. We take a comprehensive approach that integrates design, product, and construction services into one convenient, turn-key package. To learn more, please contact us today.