Luxury Kitchen Design Services Provided in New York City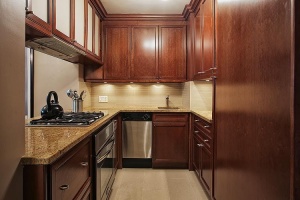 High-end kitchen design is our area of expertise at Knockout Renovation, the premier provider of luxury home remodeling services in the Flatiron District, the Lower East Side, and other neighborhoods in New York City since 1992. Our team includes some of the home improvement industry's most talented designers, craftsmen, and architects, all of whom partner with our clients to create "knockout" results.
Kitchen design at Knockout Renovation begins with top-notch products and materials. We don't believe in cutting corners or settling for average results. That's why we collaborate with reputable manufacturers to provide our clients with the very best:
Custom cabinetry
Countertops (marble, quartz, granite, cement, butcher block, and other options )
Tile backsplashes
Plumbing and fixtures
Professional-grade appliances
Hardware
Lighting
Flooring
And more
Additionally, Knockout Renovation takes an all-in-one approach to New York City kitchen design that eliminates stress and hassle for our clients. Following a proprietary project management system, our team handles everything – from gathering permits and approvals from the NYC Department of Buildings to writing and sending neighbor letters. We also provide a thorough clean-up service once construction is complete to ensure turnkey results.
Contact Knockout Renovation today to discover more about our kitchen design services and how we can transform your apartment, condo, or townhouse into the home of your dreams. Our New York City-based team proudly serves residents of Manhattan and Brooklyn, and will be happy to visit your home for a design consultation.