Kitchen and Bathroom Remodel Experts Serving New York City, NY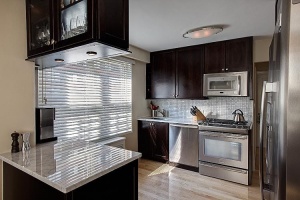 If your residence is due for a kitchen and bathroom remodel, turn to New York City's premier home improvement company – Knockout Renovation. Since 1992, our remodeling experts have served residents who demand the very best for their homes in Yorkville, Harlem, or any other neighborhood in Manhattan and Brooklyn. As evidence of our commitment to exceptional craftsmanship and delivering spectacular results, we maintain an A+ rating with the Better Business Bureau and are continually recognized on the "best of" lists of Qualified Remodeler and Remodeling Magazine.
Knockout Renovation in New York City has excellent relationships with some of the industry's most regarded manufacturers, which means our clients receive the best products installed by the best craftsmen. For instance, we offer a variety of premium-grade:
Countertops (marble, granite, quartz, butcher block, cement, and more)
Custom cabinetry
Hardware
Plumbing fixtures
Tile backsplashes
Flooring
Light fixtures
Paints
And other products
No matter if you're dreaming of a sleek, bright kitchen with marble countertops or a trendy powder room with patterned wallpaper, Knockout Renovation can deliver exactly what you're looking for. The kitchen and bathroom remodel process will begin with a meeting at your NYC residence to learn of your tastes and functional needs, then our designer/project manager (DPM) will develop a detailed design plan with an itemized work scope for your approval. Once construction begins, our team will expertly oversee and coordinate every facet of the project to ensure it goes off without a hitch.
Contact Knockout Renovation in New York City today to learn more reasons why you should choose us as your contactor for your kitchen and bathroom remodel. A designer/project manager will be happy to visit your home for a consultation, or you can stop by our state-of-the-art Manhattan showroom at your convenience.