Achieve an Italian Design in Your New York City Kitchen with Knockout Renovation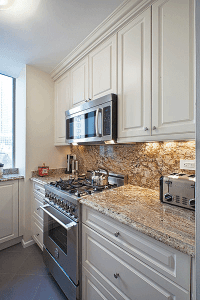 Do you adore the timeless look and feel of Italian design? If so, you're not alone. Many homeowners in New York City and beyond have fallen in love with Italian kitchen design and are turning to residential remodelers to bring these design dreams to life. If you live in Turtle Bay, Sutton Place, or another neighborhood in Manhattan or Brooklyn and want to bring Italy to your kitchen, call on Knockout Renovation.
Since 1992, Knockout Renovation has faithfully served residents of NYC with all types of design aesthetics. One thing is consistent, though – we maintain a commitment to only using the finest products, materials, and craftsmanship. If you'd like to add a touch of Italian class to your kitchen, our expert designers may suggest:
Natural shades with pops of vibrant "Mediterranean" color
Mosaic backsplashes
Custom cabinetry with fine details
Stone, quartz, or granite countertops in matte hues
Terracotta or slate flooring
Hanging antique pot racks
In addition to design details, Knockout Renovation can also provide professional-grade appliances that are as functional and long-lasting as they are stylish.
Contact Knockout Renovation in New York City today to schedule your consultation and learn more about our approach to Italian kitchen design. You're also invited to visit our spacious Manhattan showroom, where you can speak with our design professionals and browse kitchen displays in several aesthetics. Knockout Renovation is proud to maintain an A+ rating with the Better Business Bureau.