Home Modification for Seniors in Manhattan & Nearby Areas of NY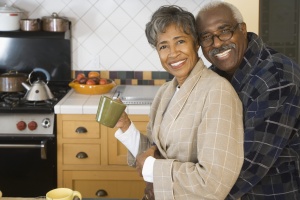 Home modification for seniors entails redesigning areas of a home to better accommodate the needs of an elderly resident. If you're considering making design changes to help you or a loved one live more comfortably at home, trust the remodeling experts at Knockout Renovation. In addition to executing large-scale renovations for New York residents of Hamilton Heights, Washington Heights, and other areas of Manhattan, our skilled designers and craftsmen help create safer, more functional living spaces by implementing key home modifications. For example, our home improvement company can install:
Walk-in tubs
No-threshold showers
Grab bars
Non-slip flooring
Lowered controls for lighting, HVAC, and security systems
Lowered and multi-tiered kitchen countertops with open space beneath for sitting
Raised toilets
Easily accessible storage
Widened hallways and doors
And more
Knockout Renovation stands apart from other contractors in Manhattan and other areas near New York City by taking a streamlined approach to remodeling. Whether you contact us to install a walk-in bathtub or to overhaul a kitchen that's stuck in the 90's, your project's designated designer/project manager (DPM) will expertly coordinate all phases of planning and construction. We'll even gather the necessary permits and approvals from the New York City Department of Buildings and your building's management. Plus, we gladly perform a professional post-renovation clean up to provide a truly turnkey transition, and back our work with a comprehensive 5-year transferable service warranty to ensure your peace of mind.
To learn more about home modification for seniors or any of our other remodeling services, contact Knockout Renovation today. We've proudly served NYC residents of Hamilton Heights, Washington Heights, and all other areas of Manhattan since 1992.