Duplex Designs & Construction Services in New York City, NY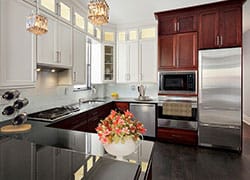 Knockout Renovation in New York City, New York, specializes in duplex designs and remodeling services for homeowners in the West Village, Lower East Side, and other neighborhoods throughout Manhattan and Brooklyn. As a full-service design and build firm with a team of experienced designers, architects, craftsmen and tradespeople, our NYC-based company can be your first choice for expert remodeling services.
Knockout Renovation isn't the only contractor in New York City that can suggest designs for your duplex and bring them to life, but there are several factors that set us apart from the competition. Here are just a few:
After carefully listening to each client's needs and preferences, our design team puts together detailed duplex designs and itemized work scopes for our clients' approval. This ensures that any necessary changes are made before construction and the client will be aware of every detail of the project.
We utilize a signature project management system to guarantee every phase of construction is executed without flaw.
We take an all-in-one approach to remodeling that eliminates stress for our clients. For instance, our employees handle time-consuming tasks like gathering permits and approvals and writing neighbor letters – tasks that clients of other companies often must do for themselves.
We maintain excellent relationships with the home improvement industry's most reputable manufacturers, so our clients receive the best products installed by the best technicians.
Contact Knockout Renovation in New York City today to schedule a consultation at your residence in Manhattan or Brooklyn, during which you will be able to review duplex designs and let us know exactly what you'd like in a home. Or, stop by our Manhattan showroom.