Design and Build Construction Services Provided in Brooklyn, NY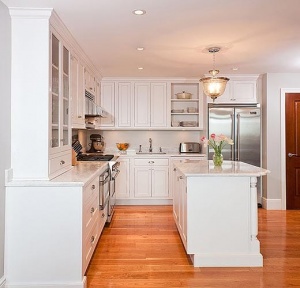 If you're looking for a design and build construction company that will actually deliver on its promises, turn to Knockout Renovation. Our skilled home improvement experts have helped residents of Navy Hill, Fort Greene, and neighborhoods across Brooklyn, New York, transform outdated living spaces into functional, gorgeous homes since 1992. Whether you need to spruce up a dingy kitchen or overhaul the entire interior of your residence, we are the professionals to call.
Knockout Renovation is able to create spectacular interiors in Brooklyn, NY, for several reasons — our craftsmen are extensively trained and experienced, we utilize an innovative project management system, and we maintain great relationships with some of the best manufacturers in the industry. Perhaps more importantly, though, we follow a six-step process to ensure we deliver exactly what the client wants. This process includes:
A consultation to discuss the client's budget, style preferences, and functional needs
A review of the conceptual design and itemized work scope that our project manager will provide
A "kickoff" meeting to speak with a custom cabinetry representative and review final details
Shopping, during which the client will select products with the help of our designer
Construction, which will be coordinated and overseen by the project manager
A thorough post-construction clean up for a truly turn-key transition
Plus, as a full-service remodeling firm, we focus on eliminating stress for our clients. That's why our employees take care of the time-consuming tasks associated with renovation, like gathering permits and approvals from building management and the NYC Department of Buildings, as well as writing and sending neighbor letters.
To learn more reasons why Knockout Renovation is the premier contractor for residents of Fort Greene, Navy Hill, and neighborhoods throughout Brooklyn and New York City, contact our friendly representatives today. We'll be happy to provide you with more information about our design and build construction services.