Condo Renovation Options for Residents of Brooklyn, NY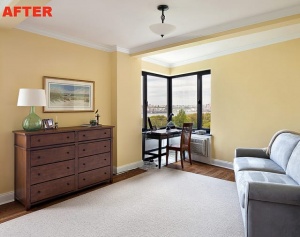 With a condo renovation, you can create the home you've always dreamed of without having to move or disrupt your busy life. Knockout Renovation stands ready to help. With decades of interior design and remodeling experience in Red Hook, Park Slope, and other neighborhoods in Brooklyn and throughout NYC, we've acquired extensive knowledge as well as a keen appreciation of the unique architectural styles in these areas. As one of New York City's only all-in-one home improvement companies, we will professionally coordinate, supervise, and perform all phases of your condo renovation project from start to finish, and you can be involved as little or as much as you like.
In addition to our comprehensive approach to project management, at Knockout Renovation we take great pride in the creativity of our condo renovation design work. We're proud to say that some of the projects we've completed in Brooklyn, NY, have been highlighted by The Rachael Ray Show and The New York Times, among many other media outlets. Whether you envision a stand-alone kitchen remodel or a full-scale condo renovation with a bathroom upgrade, we'll develop the best design to meet your needs and budget. Regardless of its scope, Knockout Renovation will approach your project with:
A foundation of strong aesthetics and functionality
Extensive product options
Expert project management
A commitment to outstanding craftsmanship
When you hire Knockout Renovation, you can rest assured that your condo renovation project will be completed by talented professionals who are highly experienced. But, that's not all. Our carpenters are true craftsmen who bring an astute design sensibility to every project, and they perform their work with both technical proficiency and extreme care. During the construction phase, they'll fully isolate the remodeling area and protect the rest of your home with primary and secondary barriers against dust and debris. Upon completion, they'll have the jobsite professionally cleaned and readied for your immediate use and enjoyment. In sum, they truly care about what they do – and it shows.
At Knockout Renovation, we're a full-service remodeling contractor that offers design, products, and remodeling – all in one. To learn more about our condo renovation services available in Brooklyn, NY, please contact us today.