Condo Remodeling Services for Homeowners in Brooklyn, NY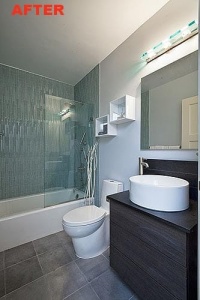 Condo remodeling is popular among residents of Clinton Hill, Park Slope, and elsewhere in Brooklyn, NY. This is for good reason. As many New York City residents will attest, most co-ops and apartments could be accurately described as less than spacious. Whether it's a tiny bedroom, narrow kitchen, or non-existent dining room, most city dwellers face challenges in making the most of their living spaces. The interior remodeling experts at Knockout Renovation are prepared to help you do just that. We'll gain an understanding of your concerns and ideas, help you conceptualize an optimal living space, and then flawlessly execute the renovation with minimal disruption to your busy life.
As a full-service remodeling contractor with more than 20 years of experience, Knockout Renovation understands the unique challenges of condo remodeling to address the space limitations and/or unusual layouts typically found in Brooklyn, New York apartments, whether they are brand-new condos, brownstones, or pre-war co-ops. For example, a condo remodeling project is generally much more complex than a home improvement project in a private house due to considerations like:
Shared structural elements
Plumbing
Building wiring
Other fixed features
Potential inconvenience to neighbors
At Knockout Renovation, our highly skilled professionals are well prepared to attend to every aspect of your condo remodeling project, including design, planning, purchasing, permits, construction, and finishing. We'll create the living space of your dreams – a real knockout! What's more, whether your condo remodeling project entails a complete renovation of a bathroom or kitchen, or a straightforward installation of new cabinetry, keep in mind that anything that enhances the appearance and functionality of your home will add to its resale value, should you one day decide to sell.
For more information about the condo remodeling services we offer to residents of Brooklyn, NY, please contact Knockout Renovation today.