Bathroom Remodeling Services Available for Homeowners in Manhattan, NYC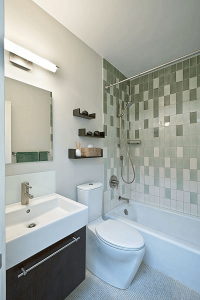 Finding the right contractor for a bathroom remodeling project in your Manhattan, New York City, home is as easy as turning to Knockout Renovation. Since 1992, we have provided homeowners throughout the Upper East Side, the Upper West Side, and all surrounding neighborhoods with the ultimate home improvement experience. This incredible approach to remodeling integrates design, product, and construction services into one convenient, turnkey process that enables you to achieve the renovated space you've always wanted while remaining focused on your already hectic life.
Performed in conjunction with other co-op or condo renovations, bathroom remodeling services from Knockout Renovation allow you to create a beautiful, functional space that perfectly reflects your aesthetics. To ensure your vision is properly realized, we follow a six-step process on every renovation we perform. These steps will smoothly usher your Manhattan, New York, bathroom remodeling project from design to completion and include a wide range of services, such as:
Architectural and design planning
Building approvals and permitting
Product shopping and selection assistance
Materials ordering and delivery
Construction and site management
Post-construction cleanup
And more
Furthermore, because of our innovative project management system and responsive billing schedule, you can rest assured you will always be well-informed and up-to-date on the progress of your renovation.
Contact Knockout Renovation today to learn more about how we can expand your home improvement project to include bathroom remodeling, kitchen remodeling, or a wide range of other auxiliary services. We proudly serve all Manhattan, NY, homeowners.