Apartment Modifications for Residents of Brooklyn, NY & Nearby Areas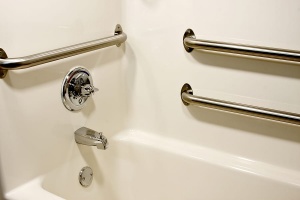 Planning the right apartment modifications to accommodate your needs or the needs of a loved one can prove to be a challenge. That's why Knockout Renovation, an applauded home remodeling company serving Park Slope, Greenpoint, and other areas of Brooklyn, New York, since 1992, offers assistance to locals who require certain design adjustments to function better in their homes, like adding bathroom grab bars or installing wheelchair-accessible cabinets.
No matter the scope of your project, Knockout Renovation's team of professional contractors and designers will put their expertise to work for you when planning and installing necessary modifications to your apartment. It's our goal to supply you or your loved one with a space that not only provides enhanced functionality, but looks beautiful, too. Here are just a few of the reasons so many Brooklyn, NY, residents trust Knockout Renovation to deliver quality apartment modifications and other home improvement solutions:
We are an all-in-one home remodeling company that focuses on eliminating inconveniences for our customers – we gather permits and approvals, provide design and architect services, coordinate and supervise construction, and clean up once the work is complete.
The level of craftsmanship our contractors practice, along with the quality of products we install, consistently stand out among those of other New York City remodelers.
We only serve a portion of the NYC area to ensure we can closely oversee and devote ample attention to each project.
We've earned recognition from a number of respected industry publications, including Qualified Remodeler and Remodeling Magazine.
Our apartment modifications and other services are backed by a five-year transferrable service warranty.
And more
If you're interested in making apartment modifications, contact Knockout Renovation today. We'll gladly stop by for an in-home consultation to determine how we can best meet your needs, or the needs of a family member. Knockout Renovation proudly serves residents of Park Slope, Greenpoint, and all other neighborhoods of Brooklyn, NY.