ADA Bathroom Remodeling Services in New York City
The ADA (American with Disabilities Act) is a civil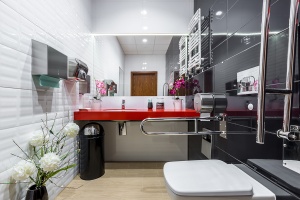 rights law that was established in 1990 to prevent discrimination against Americans with disabilities. As it relates to home remodeling, this law sets construction guidelines to help ensure individuals with disabilities can function safely in their homes. For example, a bathroom that follows ADA guidelines features:
A toilet seat that is between 17-19 inches from the floor and is centered between 16 and 18 inches from the side wall.
Enough space (a circle of at least 60 inches around the side wall) to accommodate a wheelchair.
At least 30 inches of access to the sink that is not affected by a swinging door.
At Knockout Renovation in NYC, we specialize in universal home design services to help individuals with disabilities remain safe and happy in their homes. In addition to making important home modifications such as those listed above, we can outfit bathrooms with ADA-compliant grab bars, walk-in tubs, non-slip flooring, improved lighting, easily accessible storage, and many other helpful solutions. Not to mention, we can incorporate high-end finishes to create a bathroom that is as stylish as it is functional.
Contact Knockout Renovation today to learn more about our ADA bathroom remodeling services and how we can help you or your loved one live more comfortably at home. Our New York City-based design and construction firm is proud to maintain an A+ rating with the Better Business Bureau, and is consistently ranked among the top contractors in the country by national industry publications.