ADA Accessible Remodeling for Residents of New York City
Knockout Renovation is a full-service design/build firm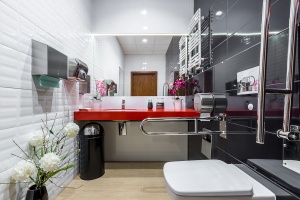 that offers a wide variety of home improvement services to residents of New York City, including ADA accessible remodeling. Our team of designers, project managers, architects, and craftsmen work with physically disabled individuals to improve the functionality of their homes and create a more comfortable and convenient living space. If you or a member of your family is disabled, we encourage you to speak with one of our professionals about the ADA accessible remodeling solutions we offer.
What is ADA accessible remodeling?
In short, ADA accessible remodeling involves making key home modifications – some small, others more extensive – in accordance with the American Disabilities ACT (ADA) to help seniors and physically disabled residents live more comfortably. Some of the home modifications Knockout Renovation can perform include:
Installing ADA-compliant sinks, grab bars, walk-in tubs, and roll-in showers in bathrooms
Lowering kitchen and bathroom counters to accommodate seated residents
Installing easily accessible storage solutions, HVAC controls, and light switches
Widening hallways and doorways to improve wheelchair access
Installing non-slip flooring and ramps
Additionally, you can trust that you are partnering with true industry experts when you choose Knockout Renovation. We have faithfully served NYC residents since 1992 and maintain an A+ rating with the Better Business Bureau.
Contact Knockout Renovation today to learn more about ADA accessible remodeling services and how we can help you or your loved one live more comfortably at home. We are proud to serve New York City residents in the Upper East Side, Tribeca, and other neighborhoods throughout Manhattan and Brooklyn.