Three Things to Consider Before Starting Your Small Kitchen Remodel in New York City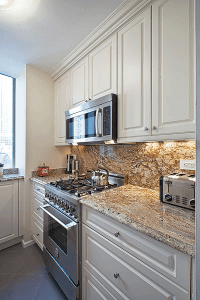 Just because it's a small kitchen remodel doesn't mean that it's a small task. This is especially true in New York City, where cramped quarters and shared living spaces can make renovating more complex. If you live in Chelsea, Tribeca, or another neighborhood in NYC, be sure to consider these three factors before kicking off your project:
Finding the right company. Not all remodeling companies are created equal. Make sure you partner with a contractor that has been in business for several years, maintains an A+ rating with the Better Business Bureau, and has ample experience with small kitchen remodel projects.   
Setting your budget. This may seem obvious, but it can be easy to get carried away when planning your dream kitchen – even a small kitchen. Ask your contractor to provide you with an itemized estimate before kicking off your project.
Prioritizing your functional needs. It can be easy to be charmed by dazzling materials, but make sure to consider your needs first. For example, if you cook often, you may want to invest in higher-end appliances. If you don't have time to tend to a material that requires upkeep (marble, for example), you may want to consider another material.
If you live in New York City and are ready to spruce up your small kitchen, turn to the experts at Knockout Renovation. We provide high-end remodeling services to residents of Manhattan and Brooklyn who demand nothing less than the best. Our small kitchen remodel projects are facilitated by expert designers, craftsmen, and architects who never cut corners and make our clients' satisfaction a priority. Contact us today to learn more, or stop by our interactive showroom on 2nd Avenue.