Nationally Applauded Residential Remodelers in New York City, NY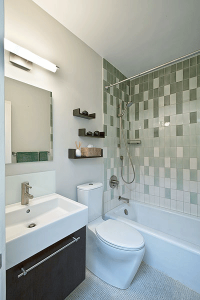 When it comes to residential remodelers in New York City, there is no better choice than Knockout Renovation. Since 1992, our team of home improvement experts have provided a full spectrum of remodeling solutions using the best materials and products available. If you live in Greenpoint, Williamsburg, or another neighborhood in Brooklyn or Manhattan, give us a call. We'll be happy to discuss your design dreams and how we can transform your living space into a beautiful, functional home.
There are several factors that separate us from other, less experienced residential remodelers in New York City. For instance, we maintain excellent relationships with the industry's best manufacturers, and utilize an all-in-one approach to remodeling that eliminates stress for our clients. Additionally:
We maintain an A+ rating with the Better Business Bureau, which is a testament to our exceptional craftsmanship and client service.
Our work has been featured on nationally televised programs including "The Rachel Ray Show" and "Queer Eye for the Straight Guy."
We continually earn mention on the "best of" lists of several national industry publications, including Qualified Remodeler and Remodeling Magazine.
Knockout Renovation's services also extend beyond traditional kitchen and bath remodeling. Our NYC residential remodelers can tackle large-scale projects like apartment combination, as well as provide universal design services to help keep seniors and disabled individuals safe and independent at home.
Contact Knockout Renovation today to learn more about how we stand apart from other residential remodelers, or to schedule a design consultation at your residence in New York City.