Remodeling Contractor in Manhattan, NY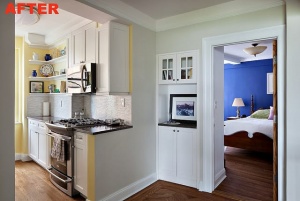 For a trusted remodeling contractor serving Soho, Hell's Kitchen, Manhattan, and all of New York City, turn to Knockout Renovation. Founded in 1992, we're an all-in-one design, product, and remodeling company that is fully integrated for client convenience. We'd be pleased to create the beautiful, functional living space of your dreams – whether it's a full kitchen or an entire apartment – and the end result will be a real knockout!
As a remodeling contractor, we are committed to working with each customer in whichever style the customer prefers. Maybe you'd like to remain closely involved in your project every step of the way. If so, you'll be pleased to know that we are not only comfortable with close customer supervision – we welcome it. On the flip side, we understand that life can be busy in Manhattan, NY. If you'd prefer to just check in from time to time and leave the details to the experts, you can trust us to always act in your best interest. Simply put, we take great pride in our work, and we're a remodeling contractor that cares about your home improvement project just as much as you do. Some additional benefits of choosing Knockout Renovation as your remodeling contractor include:
Turnkey service – You can rely on us to professionally coordinate and supervise your project from start to finish, including obtaining all required NYC building permits and approvals.
High-quality products – We have excellent relationships with the top suppliers in New York, so we are able to offer our customers an extensive product selection directly through us, saving them time, effort, and inconvenience.
Product shopping assistance – Your remodeling contractor will assist you throughout the design phase and, if you'd like, accompany you to vendor and manufacturer showrooms to facilitate your selections.
Detailed work scope – At the outset of the project, your remodeling contractor will explain exactly which products and services are included, and you will be able to easily monitor our progress.
Progress invoicing – You will receive weekly or bi-weekly, line-itemized invoices, ensuring that your payments are directly tied to the work that is happening on-site, in real time (most contractors don't offer this).
What's more, as a small, area-specific remodeling contractor, Knockout Renovation has a centralized location and a highly focused territory that allows us to spend more time at our job sites in Manhattan, NY, because we don't have a long commute back and forth. And, because we are so confident that you will be pleased with our work, we offer a five-year transferable service and product warranty.
For every step to a beautiful home, contact Knockout Renovation today.