Luxury Kitchen Showrooms in New York City, NY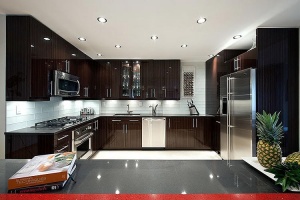 Browsing luxury kitchen showrooms is a good way to gain design inspiration for your upcoming remodeling project. In New York City, the premier kitchen showroom to visit is Knockout Renovation's. Since 1992, our high-end design/build firm has faithfully served residents of the Upper East Side, Turtle Bay, and neighborhoods throughout Manhattan and Brooklyn.
Luxury kitchen design
When you visit our showroom, you will be assisted by one of our extensively trained designer/project managers who will help you navigate our showroom and answer any questions you may have. You will have the opportunity to view several kitchen displays, see samples of our high-end products and materials, and look at large-format before and after photos. We also offer a unique kitchen visuals that allow you to try out different combinations of countertops, cabinetry, and backsplashes.
Of course, any home improvement company can tout its own qualifications, but at Knockout Renovation, we allow others to do the talking. The Better Business Bureau gives us an A+ rating year after year, Remodeling Magazine and Qualified Remodeler consistently ranks us among the best contractors in the country, and nationally televised programs like "The Rachael Ray Show" and "Queer Eye for the Straight Guy."
Contact us today
If you're visiting luxury kitchen showrooms, be sure to pay a visit to Knockout Renovation's at 810 2nd Avenue in Manhattan. Contact our team today to schedule an appointment. We look forward to helping you achieve the luxurious and functional kitchen you've always wanted.