Luxury Kitchen Design Experts Serving New York City, NY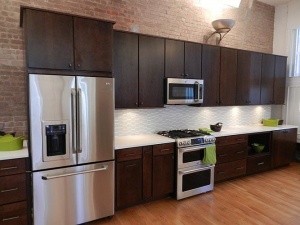 Luxury kitchen design is our specialty at Knockout Renovation in New York City. Our home improvement experts have faithfully served residents of Chelsea, the Flatiron District, and other neighborhoods throughout Manhattan since 1992, and we look forward to the opportunity to help you achieve the beautiful gourmet kitchen you've always desired.
Knockout Renovation features designers, craftsmen, and architects who use the finest products and materials and adhere to a level of artisanship that is simply unrivaled. Thanks in part to our expertise and commitment to client satisfaction, we maintain an A+ rating with the Better Business Bureau, are consistently ranked among the nation's top remodelers by Qualified Remodeler magazine, and have even been featured on nationally televised programs like "The Rachael Ray Show" and "Queer Eye for the Straight Guy."
Luxury kitchen design services at Knockout Renovation are tailored to the unique needs of New York City clients. For example, we know how to maximize a small space and design a custom kitchen that complements the rest of the client's townhome or apartment beautifully. Additionally, our NYC-based company maintains excellent relationships with the industry's leading manufacturers, so we can provide a wide selection of fine custom cabinetry, countertops, professional appliances, fixtures, finishes, and more.
Contact Knockout Renovation in New York City to schedule your in-home design consultation and learn more about our approach to luxury kitchen design. Prospective clients are also welcome to stop by our spacious home design showroom in Manhattan to view large-format before and after pictures, try out our interactive design software, and speak with a professional on our team.