Kitchen Renovation Providers Serving New York City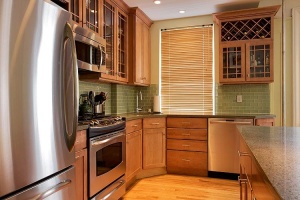 Among kitchen renovation providers in New York City, Knockout Renovation stands apart. Our commitment to high-end products, exquisite craftsmanship, and outstanding client service is simply unmatched. Since 1992, our luxury design/build firm has transformed the living spaces of clients in Williamsburg, Clinton Hill, and other neighborhoods throughout Brooklyn and Manhattan using only the finest products and materials. But, don't just take our word for it – the Better Business Bureau continually gives us an A+ rating, and renowned industry publications like Qualified Remodeler and Remodeling Magazine consistently include us on their annual "best of" lists.
Whether you want to swap out old countertops and cabinets with custom products or are looking to reconfigure the entire layout of your kitchen, Knockout Renovation has the expertise to get the job done right. Our team includes designers, craftsmen, and architects who collaborate to deliver spectacular results that exceed our clients' expectations. Additionally, we take a streamlined approach to kitchen remodeling that eliminates unnecessary hassle and stress for our clients. Our team handles everything – from gathering permits and sending neighbor letters to overseeing product deliveries and providing a thorough cleaning service once construction is complete.
Your search for reputable kitchen renovation providers ends here. We encourage you to contact Knockout Renovation to schedule an in-home design consultation in New York City. Or, feel free to stop by our spacious showroom in Manhattan to view our kitchen displays in detail. We look forward to making your dream kitchen a reality.