Kitchen Renovation Services to Suit Your Lifestyle in Manhattan, NY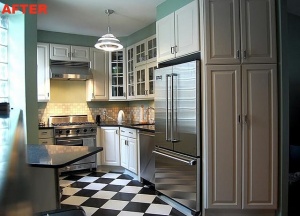 Kitchen renovation can create a smart-looking, functional workspace that provides a source of efficiency, comfort, and pride in your apartment. However, when you consider all aspects of this type of home improvement project – the planning, budgeting, designing, hiring, permitting, and purchasing, along with the construction itself – it can quickly become daunting. It doesn't have to be, though. That's because you can partner with Knockout Renovation, a professional, all-in-one remodeling company that will ensure a smooth project from start to finish. Specializing in interior home remodels, including kitchen renovation, Knockout Renovation has been proudly serving Gramercy Park, the Financial District, and all of Manhattan, New York, since 1992.
When you work with Knockout Renovation, you will enjoy a fully customized experience. Personalized service is a hallmark of our business, and an experienced designer/project manager (DPM) will be available to assist you throughout your Manhattan kitchen renovation project. Here are some of the valuable services he or she will offer:
During the planning stage, your DPM will guide your decision-making by discussing several key considerations, such as the number of people who will use your kitchen, whether you would like to incorporate an eating area, whether you entertain frequently, your color and style preferences, and more.
If you'd like, your DPM will accompany you to our showroom, which is centrally located in New York City. There, you can view interactive kitchen renovation displays that allow you to swap out different countertops, cabinet doors, backsplash tiles, and more, and then experience the various combinations under different lighting conditions for a true-to-life effect.
Your DPM can also assist you with product shopping at vendor and manufacturer centers to help you evaluate and choose different products and appliances for your kitchen renovation.
After you've finalized your selections, your DPM will prepare a single price list for your approval, and then place the appropriate orders, arrange the deliveries, and schedule the work.
As your kitchen renovation project progresses, you will be kept fully informed through regular status updates and line-itemized progress invoices. This distinctive service – which is not offered by most other remodeling contractors in NYC – will also ensure that you pay only for work that has been completed. And, once all work is complete, your five-year, transferable service and product warranty will go into effect, providing peace and mind and protection for your investment.
Contact Knockout Renovation today to get started on your kitchen renovation in Manhattan, NY. Your only regret will be that you didn't call sooner.