Kitchen Renovation Contractors Serving Homeowners in Brooklyn, NY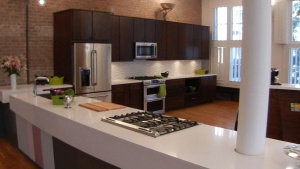 Kitchen renovation is our specialty at Knockout Renovation, a NYC-based home improvement company offering high-end remodeling services to clients who demand nothing less than the best. Since 1992, our team has faithfully served homeowners in Prospect Park, Park Slope, and neighborhoods throughout Brooklyn and Manhattan, and we look forward to helping you create the kitchen you've always dreamed of owning.
Knockout Renovation's all-in-one approach to kitchen renovation helps our clients spend less time stressing over minute details so they can remain focused on their busy schedules. Our professionals handle the time-consuming tasks that are often associated with kitchen remodeling, such as gathering permits and approvals from the NYC Department of Buildings, writing and sending neighbor letters, and thoroughly cleaning the construction site once the project is complete.
Another factor that sets Knockout Renovation apart from other kitchen renovation contractors in Brooklyn is our commitment to providing luxurious designs and high-end materials. We've partnered with some of the industry's finest manufacturers to ensure that our clients receive appliances, custom cabinetry, countertops, and more that will stand the test of time without losing their luster. Thanks in part to our dedication to quality, Knockout Renovation maintains an A+ rating with the Better Business Bureau and is continually ranked among the best home remodelers in the country according to Remodeling Magazine and Qualified Remodeler.
Contact Knockout Renovation today to schedule a design consultation at your Brooklyn residence. We'll be happy to provide you with more information about our kitchen renovation services.