The Manhattan Kitchen Remodeling Company You Can Trust – Knock Renovation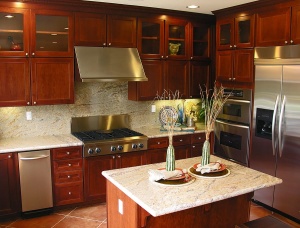 Selecting the right kitchen remodeling company is vital to the success of your project. While there's no shortage of home improvement companies in Manhattan, you'll want to choose carefully. Many contractors are very good at what they do; however, pay close attention to the scope of what they do – frequently, it is limited to installation work. For comprehensive, start-to-finish project execution, consider Knockout Renovation. We're a full-service residential contractor that has been updating and modernizing kitchens and more for homeowners in Morningside Heights, Hamilton Heights, and other NYC neighborhoods since 1992.
When you choose Knockout Renovation as the kitchen remodeling company for your Manhattan project, you'll be paired with one of our experienced design/build project managers (DPM). This talented individual will work closely with you every step of the way. For instance, you can count on your DPM to:
Answer your questions
Provide inspiration and guidance
Assist you in planning your new space
Accompany you to product showrooms to help you select appliances, flooring, cabinets, countertops, light fixtures, and more
Oversee the design, product, and construction phases of your project
Keep you fully informed of the progress of your kitchen remodel
Provide advice whenever needed
Ensure that the work is not deemed finished until you are completely satisfied
As a kitchen remodeling company with extensive expertise in all aspects of home renovation, we make the process as easy and stress-free as possible for our busy Manhattan customers. Most home improvement companies in New York simply can't compete with our customer-friendly, turnkey approach. What's more, we offer a five-year, transferable warranty that covers both services and materials. Now, that's peace of mind.
A well-designed kitchen can be the centerpiece of a home. If you're ready to make yours more beautiful, functional, and inviting, contact Knockout Renovation today. We're the kitchen remodeling company that is trusted by countless homeowners in Morningside Heights, Hamilton Heights, and other areas of New York City.