A Home Improvement Contractor You Can Trust in Manhattan & Nearby Areas of NY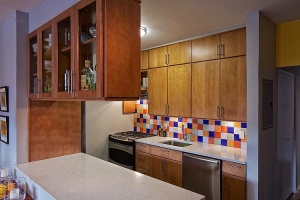 If you're searching for a reputable home improvement contractor to perform renovations on your home in Washington Heights, Stuyversant Town, or any other neighborhood of Manhattan or New York City, look no further than Knockout Renovation. Our company takes an all-in-one approach to remodeling that eliminates stress and hassle for our clients. We handle everything – from gathering permits and approvals and sending neighbor letters to overseeing product delivery and post-construction clean-up.
Of course, Knockout Renovation isn't the only home improvement contractor in Manhattan, so why should you choose to partner with us over our competition? Here are just a few of the many reasons:
Our team of experts utilizes an innovative project management system to ensure every phase of construction is completed without a hitch.
Our craftsmen are highly trained and experienced, and take great pride in the work they perform.
We maintain an A+ rating with the Better Business Bureau, which speaks directly to the professionalism and expertise of our employees.
We have earned several mentions in reputable industry publications, including Qualified Remodeler and Remodeling Magazine.
Furthermore, we limit our service area to a particular area of NYC to ensure we can devote ample time to each and every project we undertake. It's all a part of our commitment to providing exceptional customer service and delivering stellar results.
To learn more about why Knockout Renovation is the home improvement contractor of choice for Manhattan locals, contact our friendly representatives today. We will be glad to visit your home in Washington Heights, Stuyversant Town, or a nearby area of New York for a design consultation.