General Contractors Serving Residents of New York City, NY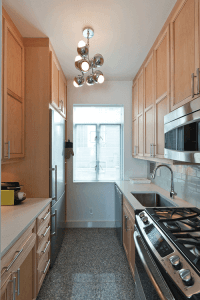 There is no shortage of general contractors in New York City, so finding the right one to facilitate your remodeling project can be especially tricky. But, if you live in Greenpoint, Williamsburg, or another neighborhood in Brooklyn or Manhattan, your decision is clear – choose Knockout Renovation. Since 1992, NYC's most discerning homeowners have trusted our expert team of designers and craftsmen to enhance their living spaces using top-notch products and materials, and we look forward to the opportunity to serve you as well.
One of the many factors that distinguish Knockout Renovation from other NYC general contractors is our signature all-in-one approach to remodeling that eliminates stress for our busy clients. Our team takes care of those little tasks that tend to cause stress for homeowners, including gathering permits and approvals, writing and sending neighbor letters, and post-construction clean up. Our New York City-based home improvement company also utilizes a special project management system to ensure every phase of construction is executed without a hitch.
Knockout Renovation has garnered plenty of applause thanks to our comprehensive services, expertise, and customer care. For example:
We maintain a coveted A+ rating with the Better Business Bureau.
We continually earn recognition on the "best of" lists of several reputable industry publications that recognize outstanding general contractors, including Qualified Remodeler and Remodeling Magazine.
Our work has been featured on nationally televised programs, including Queer Eye for the Straight Guy and the Rachel Ray Show.
Contact Knockout Renovation today to learn more about why we are the preferred choice over other general contractors in New York City. We are proud to cater to residents of Greenpoint, Williamsburg, and other neighborhoods in Brooklyn and Manhattan.