NEW YORK, Nov. 29, 2021 — Toys are an important part of every child's life as we can all agree. Toys are a way to bring smiles to children's faces every day, especially during the holidays. This season, Knockout Renovation, a full service home remodeling company in Manhattan, has partnered with Toys for Tots again, marking its 3rd year in their new location.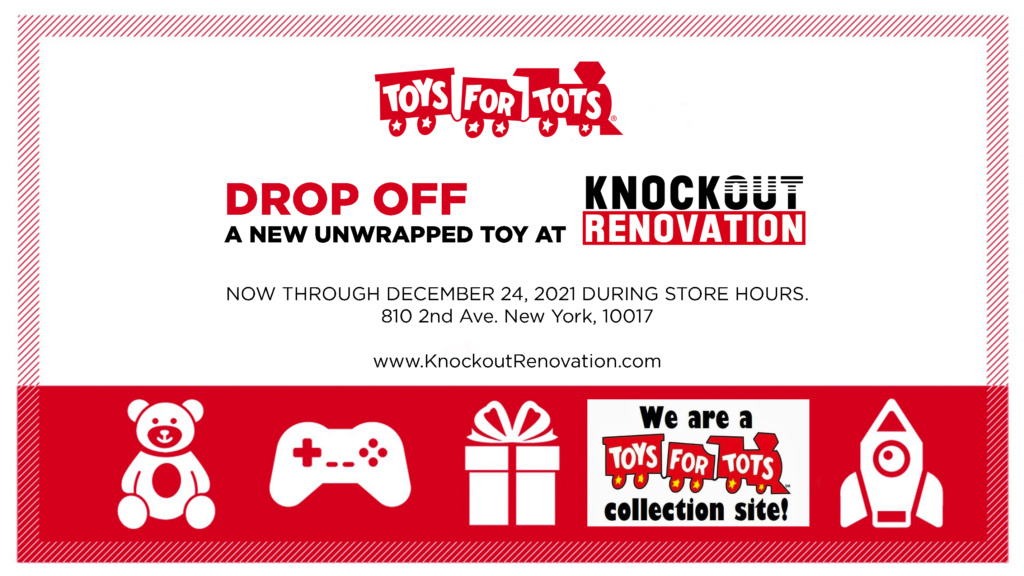 Knockout Renovation is proud to express our commitment to our customers by partnering with Toys for Tots to spread joy with toys. The mission of the Toys for Tots program, to bring new toys to children of low-income families, is near and dear to our hearts because we know the gift of a new toy not only provides hope and joy to children who need it most, but relief to parents who may be struggling to bring joy to their children at holiday time.
"Our partnership with Toys for Tots and being a partner collection site means so much to us. Having served in the US Navy, I'm honored to be able to support a cause that is personal to me. I'm grateful that my company's core value is aligned with theirs. Knockout Renovation's mission is breathing life into homes and if we can bring joy and laughter to children who are less fortunate during the holidays, that's a bonus," says Keith Steier.
Knockout Renovation will be collecting new unwrapped toys from November – December 16th. Drop them off at Knockout Renovation, a Toys for Tots Collection Site, at 810 2nd Ave, New York, 10017. | www.knockoutrenovation.com
About Toys for Tots: Founded in 1947 with the goal of giving hope to less fortunate children over the holiday season. More than 74 years later, the program has distributed 604 million toys to over 272 million children. The toys, books, and games donated encourage children to be responsible, productive, and caring members of their communities. Through the joy of toys, no child should be left behind. Learn more about Toys for Tots and how holiday shopping can help make a difference by visiting ToysForTots.org
About Knockout Renovation: Founded in 1992, we make renovating your home easier with our ultra-concierge, all-In-one, design and remodeling service. We have completed countless renovation projects throughout NYC from Manhattan to Brooklyn, ranging from complete apartment and brownstone renovations to kitchen and bathroom projects. Our work has been featured in the NY Times, New York Daily News and Rachel Ray and numerous other outlets. Learn more about Knockout Renovation by visiting KnockoutRenovation.com
Call us at (212) 599-5060 or Schedule an appointment for a Free Design Consultation! We serve Brooklyn, Manhattan and all of New York City.