Expert Kitchen & Bathroom Renovation Services in Brooklyn, NY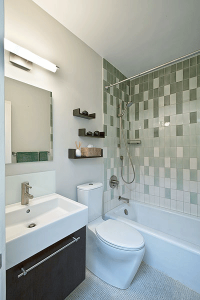 There's no shortage of kitchen and bathroom renovation contractors in Brooklyn, New York, but Knockout Renovation stands out from the pack with a signature all-in one approach to remodeling. We're respectful our clients' schedules, and eliminate inconveniences for them by addressing many of the small yet time-consuming tasks associated with remodeling a home, like gathering permits and approvals, product ordering and delivering, and sending neighbor letters. Homeowners in Williamsburg to Navy Hill and beyond have turned to us for simplified kitchen and bathroom renovation since 1992. As our client, you can be confident in your decision to partner with us.
To help ensure a seamless renovation and a spectacular finished space, every kitchen and bathroom renovation project we undertake in Brooklyn, NY, follows a 6-step process:
Consultation – we'll visit your home and discuss design possibilities.
Design and work scope review – we'll create a detailed design plan with an itemized work scope that reflects your design preferences and functional needs.
Kickoff meeting ­– once the kitchen and/or bathroom renovation plans are approved, your designated designer/project manager (DPM) will visit your home again to discuss further details.
Product selection – we'll assist you with finding premium products for your kitchen and bathroom, including lighting, flooring, appliances, countertops, custom cabinetry, and more.
Construction – once we've received approval from your building's management and the New York City Department of Buildings, construction will begin. Our team will coordinate and manage all details of the project, so you can relax.
Completion – we'll provide professional post-construction cleanup for a turn-key transition.
In addition to kitchen and bathroom renovation, Knockout Renovation offers remodeling services for every area of the home. To learn more about our company and the expert remodeling services we provide in Williamsburg, Navy Hill, and other areas of Brooklyn and NYC, contact our friendly representatives today.